THE NEXT BAR GELATO FLAVOR IS....
We received over 2100 entries for our Bar Gelato Contest! On July 28 at the Whole Foods Market in Oakland our friends formed a panel and helped judge a finalist from five to decide a winner: Masala Chai by Jennifer Dobrowolski.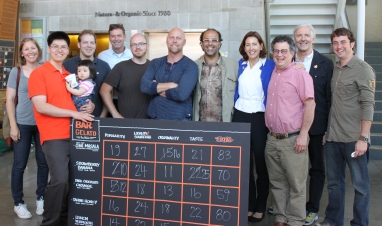 The Panel of Judges
The winner was judged on Originality, Popularity, Taste and Local Sourcing.
The Finalists
Masala Chai - Jennifer Dobrowolski (Haight)
Strawberry Banana - James Tatol (Novato)
Dark Chocolate Orange - Jeck (San Mateo)
Tahini Honey - Clare Ferris (Los Altos)
Lemon Vermouth - Robert Baker (Cupertino)
http://www.facebook.com/gelaterianaia